JANUARY 8— JANUARY 14

As far as I can tell, 2018 is off to a powerful start, especially if you are interested in making things happen. This week could hold some important turning points for us collectively and individually. This week we find four planets, the Sun, Venus, Saturn and Pluto all in earthy, pragmatic, and serious Capricorn. On Wednesday evening Mercury returns to Capricorn (following its retrograde pattern in December); and the Moon too will be in Capricorn next Sunday (January 14th). Time to fall in love with crusty but lovable Capricorn!
Monday and Tuesday offer many encouragements to get off our "you-know-whats" and get going on something constructive. Those planets in organized and loyal Capricorn are calling most the shots at the cosmic dance, so we might as well develop an affection and appreciation for the music they are playing. The Sun, Venus, and Pluto are all lined up and merging their resources. These three will take turns dancing with each other and with Mars and Jupiter over in deep-feeling Scorpio. If you are counting, this makes for 8 different partnerships each with its own influence and contribution to the overall picture. (For the astrologers in the crowd, in chronological order: the Sun and Venus both sextile Jupiter, Mars sextiles Pluto and the Sun conjuncts Venus all on Monday. Tuesday Venus and the Sun are both conjunct Pluto, and both also sextile Mars.)
If you would like to figure out for yourself what this energy might mean for you, here are some astrological prompts. (You can also jump ahead to the next paragraph for my take on the situation.) The Sun represents ego; Venus is associated with our values and what we want to attract into our lives; Mars aligns with our motivation and how we take action. Venus and Mars are important players in love, romance, relationships, and sexuality. Jupiter is associated with how we want to expand and find meaning in our lives; and Pluto is our urge and need for continuous change, revision, and evolution. Capricorn thrives on structure, organization, and using discipline to manifest goals. Scorpio looks for truth and resonates with our deepest desires and is a source of power as we align with our inner selves. Have fun mixing and matching the pieces!
With Saturn's recent move to Capricorn in December, and all these planets now lined up in Capricorn hooking up with each other and collaborating with the planets in Scorpio, we are seeing more clearly where we want to go and how to get there. An urge to step out of our comfort zone is growing stronger and I suspect many of us even feel an invisible hand on our backs ready to give a little push. Or maybe this energy is holding our hand; either way it feels like now or never. Change is inevitable. Remember the Borg in Star Trek? "Resistance is futile!" Ready or not, we are being prompted to break down and release what doesn't work, and to embrace structures and foundations that will support a new lifestyle or plan. I'm leaving the timing a little loose as some of us are a bit more resistant than others. Some are ready to make the leap; others need the encouragement and eventually the push.
The push may very well come when Mercury's return to Capricorn sets it on a collision course with Saturn on Friday. This merging of the planets of thinking and discipline may very well seal the deal. This energy is grounding and sober. I for one have been looking forward to this meeting of the minds! Because of Mercury's December retrograde, the planet of thinking has had three opportunities to be tutored by wise Saturn. This third time is a charm.
In hard-working Capricorn, we can assume this merger is not one of telling jokes or making light. This is a fertile opportunity to get serious about our ideas and our plans. When Saturn and Mercury speak in unison from the mountain top of Capricorn, this is what you will hear: "What is your purpose? "What is your plan?" If you are not ready to get down to business you probably won't like this energy or this probing. However, for those of you ready to manifest your dreams and ready to get to work, Saturn's offer of guidance, discipline, and suggestions for structure will be welcome. This is the energy of the manager, director, leader, pharaoh, emperor, president, administrator, executive, chief, boss, monarch, or sovereign. Choose your favorite symbol or label! It's time to take charge of your ideas, your direction and your life.
Until next week, let go and wear loose clothes.
---
C.A.'s current Time Based Services
C.A.'s current Email Based Services
MONDAY
JANUARY 8
MOON in LIBRA
Cooperation is the name of the game this morning with the Moon in relationship-oriented Libra. However be advised, despite Libra's natural diplomacy and need for harmony, this sign is an assertive cardinal sign. People will push for their personal agendas, especially if they believe their ideas and opinions are on the side of justice or worse, righteousness. It's hard not to get "up on your high horse" when you believe you know better than others! (I have a lot of personal experience with this, LOL!)
There is a string of planetary collaborations, four today and four tomorrow, that push us toward following through on those New Year's resolutions or other promises to ourselves. We may still be a bit resistant, clinging to the old ways; however our grasp is loosening as the call to change is more enticing as we get further into January and under the influence of the Sun, Venus, Saturn, and Pluto all in manifesting Capricorn. What makes this call irresistible is not only the force of the Capricorn union but also how this merger of planets connects harmoniously with Mars and Jupiter in deep-feeling Scorpio. Whether we feel ready to initiate or are feeling change is inevitable, be ready to step out today. If you are feeling hesitant about your next steps, just take one small action; baby steps in a new direction can turn out to be profound.
Daily Muse: You are what you do, not what you say you'll do. (C.G. Jung)
JANUARY 9
MOON in LIBRA / SCORPIO
Moon goes Void of Course at 8:12 am enters SCORPIO 12:05 pm PST
Are you feeling that rush of excitement, smelling the change in the air? The planetary convention continues today aligning energies in water and earth signs pointing to powerful and life-changing decisions and actions. Yesterday we may have made some choices; today we feel more confident about taking action. We feel a renewed sense of victory and being able to make that new diet, exercise routine, course of study, job search, home renovation, relationship or other commitment really take off.
Mark Husson recently referred to the combination of water and earth signs (think Capricorn and Scorpio) as the stuff of brick and mortar. When these two elements come together we have the raw materials to stick to our plan and make our plans hold together. In short; this is the energy of manifestation. Look to your heart for what moves you then decide on an action you can do…today. You know the famous saying about a journey of a thousand miles starts with a single step. It's true.
Daily Muse: Let me tell you what to forget in the New Year: Forget about the luck; concentrate on the insistent and conscious effort! (Mehmet Murat ildan)

Today on Simpletales please join me and guest Mo Abdelbaki. Mo is a fountain of information on mythology, astrology, the Tarot and other esoteric topics. Our discussions always prove interesting. We are live on 12Radio.com at 10 am Pacific – 1 Eastern. Afterwards, please stick around for Empowerment with Kelly Whetstone. This is our monthly Meeting of the Minds on 12Radio.
JANUARY 10
MOON in SCORPIO
Mercury enters Capricorn 9:10pm
Despite our growing confidence in making changes, with the Moon now in thoughtful Scorpio, don't be surprised if fear tries to assert itself causing us to second guess our choices and decisions. Some of the voices may sound more benign and simply distract us from following through or try to convince us our ideas and goals are too lofty, too unrealistic, or unattainable. My gut says doubts that come up today are more fiction than truth and may be our egos putting up a final struggle to maintain the status quo. Being slightly afraid of making changes is pretty natural. Resistance is not necessarily a sign you are on the wrong path. In fact, looking at obstacles and persevering may be a way of developing expertise and strength on the right path!
Today is a great day to pull in the advice of trusted friends, guides, and experts. Use them as sounding boards to discuss your ideas and plans and be open to their feedback. If you are really going off the rails, a truly good friend will tell you. A loyal friend will also support and encourage you to keep going, when fear and doubt are pounding at the door of your heart and eroding your self-confidence.
Mercury the planet of thinking and communication decides to rejoin the convention in Capricorn tonight. Remember with the December retrograde, Mercury backed out of Capricorn and briefly returned to Sagittarius. As it continues moving forward, it is picking up speed, confidence, and direction as it re-enters Capricorn this evening. Fuzziness and confusion quickly disappear in this no-nonsense sign. Ideas start to gel and strategies for moving forward become clear. We tend to be a little more hard-headed when Mercury is in this sign of business, leadership, and achievement. This can be a good thing, as we are able to adopt positions and behaviors that are consistent with attaining our desired goals. A quick but potent connection between Mercury and Neptune sparks creativity and helps us see how the impossible is not only possible but probable, with a different mindset of course.
Daily Muse: Collaboration is being open to each other's ideas and benefiting from each other's perspectives in an open way. Collaboration is all about rewriting and rewriting and rewriting and helping each other to constantly improve a piece. And, it's also about spurring each other on to doing really great, hard work - it's easier to do it in a collaboration than on your own. (Alan Menken)
Today on 12 Radio, I am joining Elizabeth, on Angel with an Edge. Will sparks fly when Angels meet Astrologers? Looking forward to a fun and provocative conversation. Please join us live at 11 am Pacific – 2 Eastern on 12Radio.com.
JANUARY 11
MOON in SCORPIO/SAGITTARIUS

Moon goes Void of Course at 6:53am enters SAGITTARIUS 11:04 pm PST
If you want quick and reliable results, better stir up a batch of cookies or banana bread. Otherwise try to be patient. Today probably will not be a day in which we experience instant gratification. Your take-out pizza may be delivered on time, but other more serious projects and issues may not deliver results quite so rapidly. The Moon is in psychological and complex Scorpio; things are not always what they seem. Although the lunar aspects are very favorable, connecting in harmonious ways with all those planets in earthy Capricorn, remember, Capricorn is synonymous with patient, slow and dedicated growth.
The Moon will also connect with fellow travelers in Scorpio. A lunar connection with Jupiter shortly after mid-night may be the source of deep and insightful dreams. Towards dawn, the Moon's merger with active Mars could have us awake and motivated long before the alarm sounds. However, there is much transition and change afoot and the specific results we are looking for may still be just beyond our reach. If so, try not to meddle or become anxious, especially over things you can't control. Trust the process and trust yourself. Second guessing previous decisions, in most cases is not wise, and has the downside of driving you crazy! Take a wait and see approach, before changing directions or making revisions in personal or professional endeavors.
Daily Muse: Life isn't a matter of milestones, but of moments. (Rose Fitzgerald Kennedy)
JANUARY 12
MOON in SAGITTARIUS
A lightness of spirit is evidenced this morning and a testament to the Moon's entry into hopeful Sagittarius late last night. Circumstances may not have changed, but perceptions and emotional states have. Obstacles or situations that seemed insurmountable or difficult before don't present as much of a challenge. Sagittarius has a way of resonating with our internal sense of optimism and hope!
Grounding this emotional bubble is Mercury connecting with sober and disciplined Saturn in late morning. I for one have been looking forward to this meeting of the minds! Because of Mercury's December retrograde, the planet of thinking has had three opportunities to be tutored by wise Saturn. This third time is a charm. In hard-working Capricorn, we can assume this merger is not one of telling jokes or making light. This is a fertile opportunity to get serious about our ideas and our plans. When Saturn and Mercury speak in unison from the mountain top of Capricorn, this is what you will hear: "What is your purpose? "What is your plan?" If you are not ready to get down to business you probably won't like this energy or this probing. However, for those of you ready to manifest your dreams and ready to get to work, Saturn's offer of guidance, discipline, and suggestions for structure will be welcome. This is the energy of the manager, director, leader, pharaoh, emperor, president, administrator, executive, chief, boss, monarch, or sovereign. Choose your favorite symbol or label! It's time to take charge of your ideas, your direction and your life.

Daily Muse: If you have built castles in the air, your work need not be lost; that is where they should be. Now put the foundations under them. (Henry David Thoreau)
JANUARY 13
MOON in SAGITTARIUS

There are some valuable lessons to be learned today with the Moon in philosophical Sagittarius and in the final days of its cycle (New Moon next Tuesday). Adding to this naturally contemplative emotional energy, we find Venus in pragmatic Capricorn squaring off with freedom-loving Uranus in daring and competitive Aries. Venus and Uranus are rarely natural companions as Venus resonates with our desire for love and companionship and Uranus incessantly speaks of independence and rebellion. We may see and feel demonstrations of this tension today in our relationships and in other areas of our lives. Our natural tendency may be to adopt a position of defending ourselves or fighting for our "rights". To say this is overkill may be an understatement.
Recognizing that not everyone shares our view of the perfect world or ideal relationship is a start. Allowing others to have independence and space makes room for us to have these too. When Venus tangles with Uranus it's a great opportunity to expand our "tolerance for pleasure!"
Don't automatically turn away from conflict or disagreement as a bad thing. A spirited discussion or healthy competition (hopefully within the context of a game or sporting event) may help release pent-up frustration. Quietly and expertly defending our ideas gives us an opportunity to strengthen ourselves and our resolve. When others point out flaws, we have the opportunity to revise a weakness. There is a good reason athletes and sports enthusiasts depend on weight training; it works. Pushing against resistance is a proven method for building strength, agility, and perseverance. Just try not to take it all too seriously.
Daily Muse: All that was great in the past was ridiculed, condemned, combated, suppressed — only to emerge all the more powerfully, all the more triumphantly from the struggle. (Nikola Tesla)
JANUARY 14

MOON in CAPRICORN

Moon goes Void of Course at 12:48am enters CAPRICORN 11:42am PST
A need for personal space and independence is on the agenda again today as the Sun in Capricorn makes a square to revolutionary Uranus in feisty Aries. This energy is reminiscent of yesterday, but this time it may feel more personal as the Sun represents our ego. We may have a chip on our shoulder or see attack even in small comments or situations that don't seem to be going our way. Instead of responding to what appears as external threats, consider where you are not giving yourself permission. Where do you want more freedom or autonomy? What's stopping you?
As the Moon also enters serious Capricorn we can take advantage of this excuse-free zone and assume more responsibility for our behavior. It might be time to look at our commitments and delegate some or our responsibilities. It's ok to rearrange priorities. Lunar connections to both Saturn and Mercury can be both sobering and enlightening as we see our options more clearly. No time to play victim; perfect time to take the reins and choose your direction.
Daily Muse: I don't want to be thought of as the "girl who was shot by the Taliban" but the "girl who fought for education." This is the cause to which I want to devote my life… I don't want revenge on the Taliban, I want education for sons and daughters of the Taliban. (Malala Yousafzai)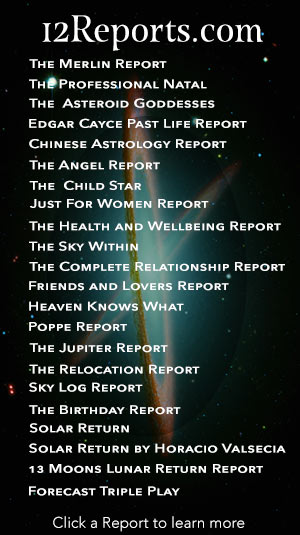 Fast, affordable and fun. The reports at 12reports.com are assembled by computer, and emailed to you or your recipeint within 24hours. Take a look at just some of the choices by clicking the reports above. The gift option is available during checkout and we'll make sure everything looks great. You can have them sent to you or we'll send it to your recipient for you.
The Power Peek is brought to you by: Mark Husson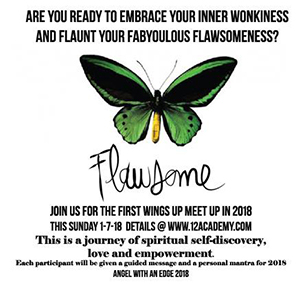 This Sunday is the debut of our highly anticipated FLAWSOME empowerment gathering on www.12academy.com. Angel with an Edge founder, Elizabeth Lindsay, developed and facilitates this magical gathering that you can do from the comfort of your home. Flawsome is the idea that we are awesome even with our flaws and Elizabeth is the perfect guide to help us squeeze our hurts and celebrate our completeness. It's THIS Sunday. Click the Card to Register. This class is filling fast!
Find out about all our promotions by signing up to our 12promotions email list here.
---
<

"When you have too many lemons from life, stop complaining! Lemons are expensive and used in cooking. Baba Ghanoush? Hummus? Lemons!" — Mo's Mom

Last week, I wrote about challenging ourselves and how important it is to embrace new ideas and tasks in life. This week, I'll briefly discuss the concept of the challenges that life lays upon us, mainly because I've spoken to so many who are facing such issues, including myself.

The challenges that come to us, those that we usually don't seek out, can sometimes be the most difficult to deal with, but also the most enlightening. They oftentimes come out of the blue and can snowball into much more than they originally seemed to be. Other times they can be molehills that present themselves as mighty mountains. How to know the difference and how should we deal with them?

Perspective is one of the most important aspects of dealing with life, without going completely bonkers. Knowing what's important and what isn't is one of the primary tasks each one of us is faced with on a constant basis. In this modern society of ours, we are often told what's important and what not to care about, usually based upon the personal views of those doing the convincing, or their "sponsors."

How many times have you said you were worried about a situation and were immediately told that it was silly to worry about, that you were being ridiculous? How often have you found yourself contradicted instantly on a topic or thought, placing doubt within you where moments before there was only certainty? Perspective will help you to sort it all out, well most of it anyway.

I'm a ridiculous optimist, but I'm also a realist and understand that this year will have challenges to it that will have quite a few of us scratching our heads. The key is to stand back for a second and reassess the true impact of what it is we are dealing with. It sounds simpler than it is, but it really isn't all that hard. Whether it be health, money, relationships, work, creativity, or any of the other myriad of things that can get in the way of our peace of mind, allowing yourself a new vantage point and a certain amount of flexibility will make all the difference in the world.

A clerk in a store recently made the comment that she thought I looked like a very flexible person. I told her that physically I was as flexible as a redwood, but as supple as a willow mentally. (Not everyone would agree with my self-assessment.) Allowing ourselves to experience things in a new way, and more importantly to see them with those new eyes, can be an amazing experience. Sometimes it's an absolute necessity to do so, if we wish to maintain our sense of balance.

In my Tarot deck, I've presented the Two of Disks as looking down at two trashcan lids from the top. The card is called The Lord of Change, and nothing shows change quite as clearly as the things we throw out in our lives. By thinking carefully about what we are holding onto and at what cost, it becomes easier to decide what the next step is and where it is best to be open to new ideas, and where it might best be served to push back a bit.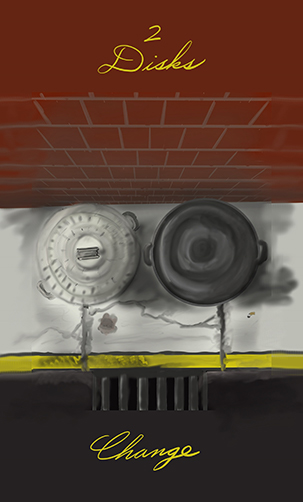 So there you are, a few thoughts about flexibility and adaptability in the new year. Incidentally, my mom made the best Baba Ghanoush I've ever eaten. She used lemons beautifully.
Until next week, I wish you all peace and love.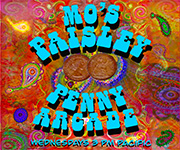 Remember, I'm an advisor at 12listen.com and would love to be of service.
Need a launch date? Get the Perfect Date To Launch Report! Visit me at Facebook.com/MoTarot I'd love to hear from you!
I have spent the last several years learning to accept all kinds of new normal. Both of my parents died of cancer, and both of my grandmothers died. I also experienced a serious crisis of health that has changed a lot about my life.  Of course, my initial reaction to all of these experiences was denial. No one wants to accept that their mother is dead or their father or their grandmother, or that they have a medical condition that will never get better. However, I have learned through trial and error that accepting my situation is the best way to manage it, get through it, and truly change what I want to change. It is challenging, and something I work on every single day. I know that I am happier because I am able to accept my current situation, and not continually fight against something that I cannot change.
Recently, I have noticed a lot of difficulty in accepting situations in my clients, friends, family and the world in general. Refusing to accept our current situation keeps us in a place of pain. It also keeps us in a place of expecting something to change magically, and hinders our ability to adjust to our situation and then move on.
The following  is the philosophy that I follow, it has helped me to accept some incredibly difficult and painful experiences in my life, adjust to them and move forward. I hope they help you as much as they have helped me.
- Impermanence is permanent. Nothing stays the same, no matter how much we want that to be the case, it just isn't true. Learning to accept this idea, that change always happens and that nothing stays the same, helps prepare us for any kind of change the comes  into our lives.
- Pain is temporary. Even in the most difficult, most painful situations, pain is temporary. I wondered if I would ever get over the pain of losing my mom, and it still hurts sometimes. But it doesn't hurt all the time anymore. I remember the day I realized I hadn't thought about my mom's death in a couple of days. It was several months after her death, and I initially felt guilty about it. But then I realized that really, this was good. I was beginning to move forward in my life. I wasn't forgetting her, I wasn't leaving her behind, I was simply moving forward with my life.
-Every experience has some good. The hardest things I have ever been through, the illnesses and deaths of my parents, have brought positives into my life. I don't think I could have said that at the time, but as I look back on it I realize that I learned so much about myself through this process. I also got closer to them, let go of little things that don't matter anymore, and learned how to live with impermanence.
-Happiness is possible in any situation. Being happy does not mean that everything is perfect all the time. It means that you learn to roll with the punches, learn to accept your situation as it is, and recognize that every experience you have makes you who you are.  Acceptance truly does bring happiness.
- You can't change the past.  Our lives move in one direction, and that direction is forward. Spending time lamenting the past does nothing but waste your time and make you miserable. There was nothing I could do to save the lives of my parents. This was their path, it was what they were meant to do. My job was to learn to adjust to it.
-Your thoughts create your reality. I don't mean this in the "write yourself a million-dollar check" and everything will be perfect kind of way. Your thoughts set up your energy body, your mood and your emotional responses to whatever you experience. If you fall into negative thinking, denial, self pity or any other kind of thought that keeps you stuck in the past and wishing for a different present, it will make you unhappy and frustrated.
-You can't control what you feel, but you can control what you do with that. Emotions are kind of like breathing, they just happen to us. We don't really control them, and we also don't use them. But what we do choose is our response to them. We have much more control over our emotional responses than we generally accept.
-Be kind to yourself. In times of change and difficulty we have a tendency to be really hard on ourselves. We're only human, and we do go through periods of denial. We do go through wishing we could change the past. This is real and it is part of being a human being. Your goal is not to be perfect. That doesn't exist. Your goal is to take good care of yourself and work toward a place of acceptance.
Join me for Kindred Spirits on 12radio.com on Monday, 1/8/2018 at 10 am PST. Let's talk about learning to accept.
Much love,
Kristi
You can download my free meditations here.
Class note: All of my recorded classes are available here!
Kristi's Current Time Based Services
Kristi's Current Email Services
---
WEEKLY GRACE
What is Spirit?
What is Grace?
I fully expected to go into this week's article, focusing on our subject matter
"How - To". Last week we began to explore, "How to Be Rich..." and this week I thought we would continue along, or go into romance, since it's such a hot topic right now!
But then, reflecting upon this week, I thought about chasing outcomes.
And I feel like I work hard, you work hard, we all work hard to try to "get there". I was humbly reminded... where is there?
And when I'm stumped, I am reminded just how Magical The Spirit that is in me is... But I am not that Spirit. Don't get me wrong! I am of it. But that's like saying,
"I, cup of the Ocean, am ALL of the Ocean!"
I'm a little baby compared to all that's out there.
A WORLD VIEW
I LOVE our world! I try to get all hippy-dippy perfectionist, but I still find my middle ground. I love CVS, Target, Instagram... I love the stuff I'm "not supposed" to... And many minutes and hours of my day are clouded by what's being fed to me via media, marketing and my surroundings.
"You can do it!"
"Started from the bottom, now we're here!"
"Blah blah... shape up... blah blah!!!"
You know them... the motivational quotes that are supposed to will you up to press through and have faith. To BELIEVE you can, you will, you are!!!
Well, What if you're not?
What if it DOESN'T WORK OUT?
Then what?
I'd be terribly disappointed... humiliated, angry and confused. This could be on a small or massive scale. And what if something serious or life threatening happens? Am I supposed to just, "Chin up, buttercup!"
I know our world has great intentions, but we have this Mindset that "we can and we will" to our detriment. It's A LOT of pressure.
It steals our focus, that would otherwise be IN THE WORLD... In THE PRESENT.... And it becomes all about "I":
What I want, what I'm focused on, what I can or can not do.
And it's UTTERLY EXHAUSTING.
I'm not saying you SHOULD believe this or that, but my hope would be, that we can have a respectful open conversation about this and ask WHY we feel so disconnected and lost in such an available network?
An Alternative
I feel very comfortable speaking on two things: Spirit & Grace
Spirit, I believe, is the Ocean (metaphorically). There are absolutely going to be waves, sharks, huge catastrophe's. That is a guarantee... but there will be some rhythm, some hand of fate, some glittery magic we can't explain that will be there with you, always.
Grace, is, after many years of looking into the definition... Unmerited, undeserved blessings and action. That means, you didn't "earn" it. You didn't have to work for it. You just opened yourself up to it, and got it!
Wherever you are today, however you are feeling...
I know this year was just the beginning.
You had an internal hurricane, and it swept things aside
that no longer needed to be.
But you were carried here,
you made it,
you're better because of it,
you trust more because of it,
and I promise...
you won't BELIEVE the beauty that lies ahead!
Never ever allow your own inabilities to short change what Spirit is capable of delivering. I love you. I'm grateful for you. Have an amazing week!
Grace