NOVEMBER 13- NOVEMBER 19

Astrologer Raven Kaldera calls the New Moon in Scorpio "the Raging Moon" and describes it as a time when we come face to face with our fears and feelings of powerlessness. I've seen this Moon in action many times but recently was perplexed by a darling little boy born under this Moon who seemed to be anything but raging. He was the perfect baby, all smiles and laughter. And then he turned two. During a family gathering, upon being told he could not have a chocolate cupcake until he ate his dinner he dramatically threw himself down on the kitchen floor with arms and legs flailing. "Aah," I said to myself, "there's the Raging Moon!"
Every two-year old in the world probably has first-hand experience with this feeling akin to the energy of the New Moon in Scorpio. Think what it must be like. Every day is an adventure; and our knowledge and skills are growing by leaps and bounds. Then it hits us. Despite our vast wisdom and experience, we're not in control. These silly adults, obviously lacking in long-range vision are in charge instead of us. How did this happen and when will the situation be rectified?
I don't want to paint this new Moon as dark and dreary, however, as New Moons go, this one can be very serious. However, that very quality is also what makes it potentially the most life-changing and profound. I've been thinking recently about how sometimes when I do a Tarot Card spread and I don't like the cards, I am tempted to shuffle the cards again and do it over. I rationalize; I wasn't ready, in a hurry, or some other feeble excuse. Ninety-nine percent of the time I catch myself and realize there are no accidents and dive into the spread for meaningful messages. Ironically, one percent of the time when I redraw the cards, I get many of the same cards and messages. The universe really does have a sense of humor!
I also reflected back on the fact that I usually get a birthday reading every year from a trusted friend. At the end of the reading, I pull a Tarot Card. Three years in a row I pulled the 9 of Swords which is often called 'Cruelty.' The third year I pulled it, I put it back on the table and told him I refused to take that as my message and I wanted another one. He calmly said, "C.A. as soon as you are ready to quit the behavior behind this card, you won't pull it anymore. It's your decision and you can make it anytime." It took me a couple more years, but I finally got what he was saying.
I am thinking of this now because of the New Moon on Saturday. We can rage against our circumstances, feel victimized, pat ourselves on the back for being smarter, wiser, and more capable than all the people who are in charge, or believe life is unfair; however, it won't change a thing. One of the gifts of this New Moon in perceptive Scorpio is being able to get to the root, to the cause, and source of our feelings. We can quit feeling helpless and hopeless in any moment. Accepting certain circumstances, understanding which ones we can change and which ones we can't is a step towards using our time more productively. We wield incredible power in our lives but need awareness and insight to unlock it's potential. Or we can throw ourselves down on the floor and wail about not getting a cupcake! Wouldn't it be better to observe and understand the system and learn to work it? I have a feeling that little boy will grow up to be a master!
Until next week, let go and wear loose clothes
---
C.A.'s current Time Based Services
C.A.'s current Email Based Services
MONDAY
NOVEMBER 13
MOON in VIRGO/LIBRA
Moon Void of Course 7:45 am (PST) enters LIBRA 3:26 pm (PST)
Venus and Jupiter merging in sexy Scorpio this morning can make some beautiful music together. This combination is traditionally considered to be very lucky and associated with positive blessings and circumstances. Both planets long for luxury and indulgence.
But it is true, too much of a good thing can put us over the edge. With a conservative and pragmatic Virgo Moon and a lunar square to disciplined Saturn, it's not likely we will go wild; but just in case, let this be your warning you might want to dial it back if you find yourself impulsively spending money, attempting a swan dive into a chocolate fountain, or attending a party where you will be tempted to, shall we say, go to extremes? As we approach the holidays we may be vulnerable to throwing caution to the wind and running up the credit cards or participating in risky behavior believing we are somehow immune or protected from the natural consequences of our actions.
This energy can be a blessing in its ability to bestow feelings of optimism. It can help us turn the corner on worry or anxiety by helping us see new and constructive options for long-standing problems or issues. Do make it a point to treat yourself today in whatever way feels comforting and supportive. Sleep in, enjoy your favorite food, or indulge yourself in a way that makes you feel deserving and loved. Don't wait for someone else to say you are worthy of adoration; do something special for yourself.
As we approach mid-day, Mercury the planet of thinking falls under the spell of Neptune. Although there can be positive manifestations with this energy, because it is a challenging square, it's more likely we could be confused, deceived, or generally not very logical and rational. Things are not usually what they seem when Mercury squares Neptune and it's easy to get misdirected. In short, consider the source of all information or messages coming your way. Just because they aren't logical doesn't mean they are invalid. However, just because someone is loud, adamant, and self-confident doesn't mean they know what they are talking about either. Use your intuition and be a tad suspicious. If something feels off, it probably is.
Daily Muse: Above all, don't lie to yourself. The man who lies to himself and listens to his own lie comes to a point that he cannot distinguish the truth within him, or around him, and so loses all respect for himself and for others. And having no respect he ceases to love. (Fyodor Dostoyevsky)
NOVEMBER 14
MOON in LIBRA
We are looking for more balance, harmony, and peace in our lives today with the Moon in Libra. A lunar alliance with Mercury may help us find some of the answers we are seeking. Even if faced with difficult decisions or multiple options, this energy can help us more clearly evaluate the potentials of different paths. Don't be in a hurry to make up your mind. If you don't have all the facts, take some time to get the information or confirmation you want. Maybe you'll just want to sit on it for awhile. In the middle of a transition, we can take a moment to enjoy the stillness.
This evening the Moon hooks up with Mars also in Libra. This is a time for tenderness and sensual activities. Intimacy and sexuality are certainly on the agenda if you want them to be. Explore the sensual side of bubble baths, foot rubs, a couples' massage or culinary delights.
Daily Muse: As I've gotten older, I've had more of a tendency to look for people who live by kindness, tolerance, compassion, a gentler way of looking at things. (Martin Scorsese)

Today on Simpletales please welcome guest host, Mo Abdelbaki. Mo is a Vedic Astrologer, Tarot Master, and storyteller extraordinaire! Please join him live on 12Radio.com at 10 am Pacific – 1 Eastern.
NOVEMBER 15
MOON in LIBRA
Moon Void of Course 4:50 pm (PST) enters SCORPIO 12:19 am (PST) on Thursday
Running away from a situation may or may not be in our best interest today. The Moon in Libra encourages taking a second and deeper look at anything causing us distress or anxiety. As the Moon opposes radical Uranus in independent Aries, most likely we'll want to throw in the towel and get as far away from conflict as fast as we can. Yes, this may be the answer. But before you run for it, at least take a moment to consider the alternatives. Are there consequences to calling it quits? If it's an intimate relationship or a friendship, the decision is certainly important. If it's nothing more than walking away from temptation, let's say the bakery aisle in the grocery store, what's the harm?
A conflict or disagreement doesn't need to lead to a more serious situation or breakup. Maybe the escape you are looking for is more immediate like taking a walk and physically stepping away. Sometimes the smart move is simply to temporarily remove yourself from a situation or a temptation. You can change your mind later. As the Moon connects with Saturn in late afternoon we gain a different perspective. It doesn't necessarily mean we will reverse a previous decision, but we may find peaceful and amicable ways to balance the Libran scales. Try not to second guess yourself or your choices.
Daily Muse: I don't have pet peeves like some people. I have whole kennels of irritation. (Whoopi Goldberg)
NOVEMBER 16
MOON in LIBRA/SCORPIO
Moon enters SCORPIO 12:19 am (PST)
Overnight the Moon entered the cathartic sign of Scorpio. The New Moon is not for a couple of days (Saturday), and yet today we already are feeling the promises of release and new birth like the Scorpio Phoenix rising from the ashes. A sweet, imaginative, romantic, and highly creative connection between Venus and Neptune blesses both relationships and artistic endeavors. This really is a very special energy; drink it in.
And the blessings keep coming as the Moon joins Jupiter and reaches out to Neptune and the Sun makes a healing connection to Chiron. Collectively this energy works its magic to purify, heal, comfort, and transform. Channeling this energy into creative projects could lead to deeply profound results.
And on the other hand, all this mushy, emotional, water energy could make some of us feel a bit queasy! If you are feeling seasick, it could be because these vibes make it easy to tune into our intuition and we may become overly sensitive and start absorbing the energy of others. Without strong and viable boundaries we may find it hard to know our own minds and feelings. If this sounds like you, explore information and experience with setting and maintaining personal boundaries. Not so you can defend yourself, but so you can remain comfortable in your own skin while being compassionate and empathetic at the same time.
Overall this is a fabulous day for creativity and for relationships. But remember when interacting with others you can be loving, kind, and supportive without making your own needs and desires less important than those of others
Daily Muse: If wrinkles must be written upon our brows, let them not be written upon the heart. The spirit should not grow old. (James A. Garfield)
NOVEMBER 17
MOON in SCORPIO
Things start out pretty well on this last day of the lunar cycle with a lovely connection between the Moon and Venus shortly after mid-night. This could lead to some sweet and creative dreams. By daybreak Mercury aligns with Mars which is a good thing, especially for processing our thoughts and communicating clearly. Which as it turns out will be very helpful as there is a contentious misalignment between the Sun in Scorpio and Uranus in Aries on the horizon.
We'll need an attitude tough as nails to steer this energy productively. Aries and Scorpio are formidable characters and they don't particularly understand each other, or care to get along, for that matter. I guess you could say they are rather indifferent to each other. But sometimes we don't have the option or the luxury of pretending just because we are ignorant of something or don't care about it, that it doesn't have the power to affect us.
The Sun represents our ego and Uranus our need to liberate ourselves from limitations. It's likely we'll find ourselves in situations today that initially elicit feelings of helplessness. Keeping a cool head, organizing our thoughts, and communicating logically are the keys. Know what you think and be self-reliant. Don't be swayed by others' opinions if you don't share them. It's ok to stand out from the crowd! Pay attention to what's right in front of you and mind your own business. In this way you will stay a step ahead of everyone else and sail through any difficult seas.

Daily Muse: Someone else's vision will never be as good as your own vision of yourself. Live and die with it 'cause in the end it's all you have. Lose it and you lose yourself and everything else. I should have listened to myself. (Georgia O'Keeffe)
NOVEMBER 18
MOON in SCORPIO/SAGITTARIUS

New Moon 26º Scorpio 3:42 am PST
Moon Void of Course 3:42 am (PST) enters SAGITTARIUS 10:59 am (PST)
The New Moon in Scorpio comes early today, for many of us before dawn (3:42 am Pacific Time). This seems appropriate as the New Moon is also a dark Moon, not reflecting any of the Sun's light; and this one seems doubly dark in the deep, mysterious and cavernous sign of Scorpio.
Astrologer Raven Kaldera talks about the New Moon in Scorpio as the "Raging Moon" describing its associations with Pluto and our struggles with learning to embrace and control power. Looking at some of the planetary interactions around this joining of the Sun and Moon, I think he has nailed it. There are many indications of our need to examine our feelings of being powerless to control our lives and influence our world. Both the Sun and Moon are in a challenging aspect to Uranus, the planet of freedom, and individuality. Mars and Pluto, the co-rulers of Scorpio, are also in a difficult square (perfect tomorrow) indicating our discomfort and frustrations around harnessing our personal motivations and power to make effective change.
But there are some really helpful planetary connections too, including the New Moon's harmonizing alliance with healing Chiron, and Venus and Jupiter both reaching out to connect with compassionate Neptune.
Successfully harnessing the gifts of this New Moon depends first on our ability to be honest with ourselves about our feelings including those that we'd rather keep hidden. When we can talk truthfully about what scares us and our feelings about not being able to control many aspects of our lives, then ironically we gain more control. This Moon might feel a bit like chasing shadows. Focusing on limitations, people, relationships, or events not under our control can keep us distracted and busy for the rest of our lives. Whereas focusing on those things we can control, namely our perceptions and self-awareness, we find meaningful ways to organize our lives and produce significant results.
After its sobering meeting with the Sun, the Moon swims for the surface and a breath of fresh air as it enters hopeful and optimistic Sagittarius. Despite a very introspective New Moon, we are ready to explore some new possibilities. Some might see it as an escape and inability to process heavy emotions, but what the heck. We need a carefree energy to help balance the dark with the light.
Daily Muse: The truth will set you free, but first it will make you miserable. (James A. Garfield)
NOVEMBER 19

MOON in SAGITTARIUS

The Sagittarian Moon has one thing on its mind today, road trip! This could be literal but definitely symbolic of our feelings. Call it wanderlust or a need to escape; but we need some time to process some of the intense energy of the previous few days. A change of scenery seems to fit the bill nicely. We prefer spontaneity today over agendas and timetables.
Mars and Pluto head into a tight spot today as they form a perfect 90 degree angle, or square between Libra and Capricorn. This connection is often associated with compulsive and willful behavior and unwillingness to compromise. We may notice an increase in competitiveness in ourselves and others. Keeping our options open is a good policy as we're not ready to make any new promises or commitments.
Daily Muse: Whenever you take a step forward, you are bound to disturb something. (Indira Gandhi)
The Power Peek is brought to you by: Mark Husson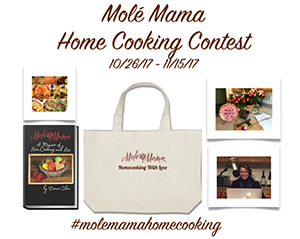 #molemamahomecooking Contest! Tag your homecooked meals for a chance to win a Molé Mama bag, book, apron, and molcajete! She's announcing the winner on her Thursday November 16, 2017 radio show "Molé Mama" on 12Radio.com. She's going to make the winning recipe for her family on Thanksgiving. All dishes are eligible, including entrees, side dishes, and desserts! Enter as many times as you like! Happy home cooking!
My cousin recently shared pictures on Facebook showing a rather large spider with gigantic eyes and very furry legs. It was obvious that the pictures were chosen to portray the arachnid as cute. I have to admit, some of the poses were reminiscent of a terrier sitting up for a treat, a golden retriever sprinting across a lawn, or a cute puppy rubbing his face on a pillow. Of course none of these dogs sink their fangs into their food and inject venom that liquefies their prey, enabling them to slurp down their meal.
My uncle seemed to agree with me and wrote something disparaging about spiders, reminding my cousin of Black Widows. Having been bitten by one in my younger days, I mentioned that I would rather cuddle with my dog. My cousin seemed somewhat perturbed and said that it was possible to appreciate beauty in all of nature's creatures. I wholeheartedly agreed that spiders are not only beautiful, but amazing beings. It still didn't make me think that an eight legged, venomous creature was cute, no matter how well chosen the pose.
The point is that we are living in a time where all sorts of strange ideas are being promoted, on social media and elsewhere, as being sensible. We are being shown spiders in ways that remind us of puppies and being encouraged to consider them as the same thing. I'm amazed at how well this works. Look at social media carefully. You can't miss it.
I think we will be seeing more of this strategy as we near the holidays, which are right around the corner. Every now and then we have to rebel against trying to make everything as safe as possible. It doesn't hurt to look at situations realistically from time to time. This doesn't mean we have to steep ourselves in it, or worry about the realities; it simply implies that being conscious is always a good thing.
As we enter the season, it would be nice if the air were always filled with the smell of cinnamon and Christmas Trees. Unfortunately, it isn't that easy, but we can make the most out of the holiday as long as we allow ourselves to fully engage with life, without fear or apprehension. For me, this means making the decision to look at the lighter side of things and to enjoy the existence I have, regardless of all the insanity that happens in the world. I won't ignore anything, but my fretting is not going to change it for the better. My being confident and optimistic about the next couple of months just might improve a situation or two.
This is all about our attitude and what we expect. If we think that everything is going to turn out because we want it to, we may be opening ourselves up to crushing disappointments. If, on the other hand, we look at what's going on around us, accept it as reality, and move forward to find our joy and happiness in the midst of it all, then we win. What's the prize? We can win peace of mind and the ability to enjoy one of the most fascinating and heartfelt times of the year.
Anyone who knows me can tell you how much I love Yuletide. I enjoy everything about it, from the frigid weather to the lift in spirits of those around us, to the infectious excitement of children and the delicious anticipation of what the holidays can hold for each of us. I even love complaining about mass merchandising and the attempts to turn us into automatons, buying just because we are told.
I think we should enjoy this season, in spite of all the negativity that may surround us. Creating a bright spot in the year will do us all good. That's my plan, and I'm sticking to it. I hope you'll join me.
Until next week, I wish you all peace and love.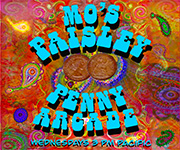 Remember, I'm an advisor at 12listen.com and would love to be of service.
Need a launch date? Get the Perfect Launch Report! Visit me at Facebook.com/MoTarot I'd love to hear from you!
The oldest and strongest emotion of mankind is fear, and the oldest and strongest kind of fear is fear of the unknown - H. P. Lovecraft
Fear is the most common four-letter word I have heard this week. The advice varies, some say avoid fear, some say face it, some say being afraid is a weakness, some say fear is the enemy. What we all know is that fear itself is real inside of each of us, and how to manage it is a challenge.
Fear comes from the ego, it is meant to keep us alive. Being afraid in a dangerous situation kicks our survival instincts into overdrive. We may run, fight or freeze, but whatever we do, we do it to survive. Fear is an ancient emotion, the fear of annihilation literally kept our species alive. In the past it was pretty straightforward, we knew who the enemy was, immediate action could lend immediate results
The problem with fear in the modern age is that the enemy is generally unknown. We fear all kinds of "what if" situations, most that will never actually happen.
It is hard to identify the enemy, for example, at work. You may fear losing your job, but your fight or flight instincts are useless in that situation. In fact, they have the opposite effect.  You can't fight your boss and win to keep your job. You also can't run away and keep your job.
Our lives are filled with subtle threats, Online bullies, politics, religion, loss of all kinds, potentials that may or may not happen.
How do we face this constant threat, and find peace? The answer may be different for each of us but here are a few thoughts.
-Living in the now is a great way to avoid "what if" thinking. Practice keeping your mind focused in the moment, what you can actually manage right now. Too much future thinking amplifies the fear of the unknown.
-We are not in control of a lot of what happens to us. We want to believe we are, but is just isn't the case. This is hard to see for ourselves, but we can see it in others. Think of someone you know who has experienced a recent loss. Did they have any control over what happened, could they have changed the outcome? Most of the time the answer is no.
-Accepting impermanence helps to release fear. When I know that I can't control everything that happens to me and I accept that my job is to keep moving forward and constantly adjusting to change, I feel much more peaceful about the future.
-Not everything is a lesson.
-Fear is an emotion, and just like all emotions, it needs to be expressed. Find ways to release fear by expressing it through discourse, art, music, writing, dancing, yoga, meditation, praying, or anything else that has meaning for you.
-Everyone has fear, you cannot become spiritually enlightened and overcome fear. You live with it, express it, understand it, but you never lose it.
-Sometimes fear is your friend. Listen to your fears, find the message.
Please join me for Kindred Spirits on 12radio.com on Monday, 11/13 at 10 am PST. Let's talk about fear and how to find peace.
Much love,
Kristi
You can download my free meditations here.
Class note: All of my recorded classes are available here!
Kristi's Current Time Based Services
Kristi's Current Email Services
---
Good Morning, Beauties!
I know this Scorpio Season can be a bit overwhelming. I whole heatedly encourage us all to go with the mindset, "I don't know", and to not pressure ourselves to figure everything out right now.
The cycles of death/ rebirth are underway. And we only know, what we've known. Alas, there is still much more to be learned!
Chiron The Wounded Healer
For this weeks segment, I'd like to turn our attention towards Chiron, The Wounded Healer. This is the sign of your life healing, your childhood or past life's "mission" to heal and find your purpose and service to the world.
Right now so many are having to face these deep wounds. But Chiron can point the way towards healing, the problem, and what we can do about it. On the other end of these emotions and experiences is the greatest strength... from the greatest vulnerability... you'll ever have. Be Teflon in life! By accepting and healing your darkest shadow.
(See your birthchart for Chiron's position)
Chiron in Aries
A voyage of self-discovery or need to overcome feelings of worthlessness. They will learn to value themselves and how to care for themselves. They'll find that once they value themselves, others will too.
Chiron in Taurus
a wound of neglect. They were born to love and be loved. If they learn to value themselves, others will value them also. They should take time for introspection.
Chiron in Gemini
Maybe they are terribly shy or maybe they feel no one listens to them. They should take some time and list the things they are very knowledgeable about. Chiron's gift should be used to broaden their horizons in ways they didn't think was possible.
Chiron in Cancer
They may feel unwanted, un-nurtured and unloved. On the good side, they are very nurturing themselves. They need to learn to give to themselves and cherish their own needs. Opening themselves up to accept love and care from others is a big step towards healing that inner hurt.
Chiron in Leo
Chiron in Leo feels that their talents have been overlooked. The difficulty they have expressing their own talents may stem from being stifled as a child or forced to perform by their families. Chiron in Leo needs to find a way to touch their inner child and reawaken their creativity.
Chiron in Virgo
They may feel there are things wrong that can never be healed. They must learn to deal with imperfection. This can be very difficult for them. They may be able to heal not only others, but themselves.
Chiron in Libra
Chiron in Libra suggests a relationship that needs to be healed, or maybe they got hurt or rejected in a relationship. They may get caught up in a codependent relationship or be abused. By learning that they are whole on their own can come as a great relief.
Chiron in Scorpio
They may suffer a great loss in some way early in life or feel that something inside has died. They may be afraid of their own power or feel powerless. This makes them want to cover up their feelings of inadequacy with false bravado. They can help others through their grief or stress with their great understanding in this area.
Chiron in Sagittarius
Life may seem like one long continuous spiritual crisis. By realizing that there is wisdom in their own heart, they will begin to heal.
Chiron in Capricorn
Chiron in Capricorn may be a workaholic in order to prove their self-worth. They were often rejected in some manner during childhood. To learn this lesson, they need to know how to acknowledge their own value. If they stop and make note of their achievements, they will see that they already have status.
Chiron in Aquarius
Social rejection makes them want to withdraw from the public and stay only with those with the same interests. They may feel disconnected or isolated. They don't fit in. To learn this lesson in healing, they need to learn to be themselves and cherish their differences.
Chiron in Pisces
They may be religious or spiritual crises that keep this combination in a tizzy. They may be at risk for depression or drug use. By examining their problems, they may find deeper insight and connection.
---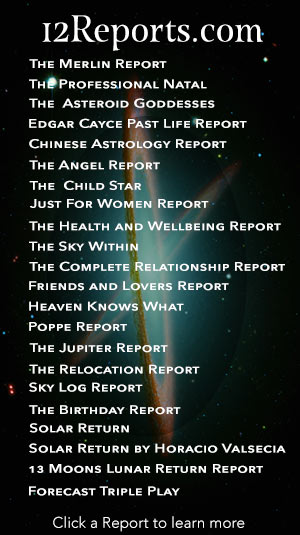 Fast, affordable and fun. The reports at 12reports.com are assembled by computer, and emailed to you within 24hours. Take a look at just some of the choices by clicking the reports above.