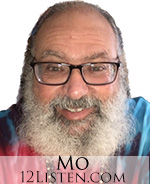 by Mo Abdelbaki
The world is changing quickly. Some of these changes are for the better and some definitely seem to be for the worse. I often ask myself how best to deal with these shifts and I've come up with some ideas that I'd like to share with you.
First, here are a few of the problems, as I see them.
Random acts of violence seem rampant and it would appear that almost every faction of society feels victimized.
We no longer know whom to trust.
We're polarized easily and divisiveness has become a new power play.
Demands are made on us by our families, neighbors, coworkers, friends, cultures, our past and even our hopes for the future, leaving some of us feeling crushed by a sense responsibility.
What are we to do?
Some react by withdrawing, but that's never an answer. When we pull our heads into our shells, we lose the ability to influence the world around us. Fear begets fear and causes some to feel isolated, or alienated. This rarely works out well.
The good news is that none of this is new. Such feelings have been a part of being human since the beginning of history. Jealousy, envy, hatred, imperialism, domination, ethical decay and all the other ailments societies experience, are more ancient than the pyramids.
Facing these issues, really thinking about them, can give us our power back and save us from being a victim of our own fears. It's not always easy to keep a positive outlook, but without exception, it seems that every negative situation that arises, plants the seeds for outpourings of genuine humanity and compassion.
Being "human" means being involved. How do I stay involved?
I try to find something to look forward to every single day. I watch for new skills to learn. I love fresh ideas and learning about the Universe. I engage with Nature daily and listen to its voice of genius.
I get excited about the change of seasons.The seasonal shift of energies is one of the most fascinating aspects of living on this planet. With the equinoxes, solstices and cross quarter days, we have plenty to look forward to and celebrate. Everything on Earth, from weather to trees, insects to humans, participates in this pageant of transformation. It's the stuff that fuels our mythologies and imaginations.
I'm ever on the lookout for something to stimulate me mentally, or to challenge me and everything I know. Whether it be a new passion to incorporate into my life, or a different way of thinking about the world, I embrace it fully. I'm always aware that it may not be for me in the long run, but the experience makes it worthwhile.
Many of us are dreading the upcoming election, but I'm looking forward to them. I know I'll be sick and tired of it all by the time it's done, but I think we're in for one of the most entertaining and mind-numbingly ridiculous, but ultimately important, elections of all time. You and I have a hand in trying to fix a broken society, even if it's one vote at a time.
Be active in the world and make your voice matter, but be sure to be informed. This may mean a heavy burden of knowledge, but it beats sticking your head in the sand, which only leads to sandy ears.
Channeling our energies into productive and constructive places changes the world from chaotic to controllable. By enhancing and enriching your life, you take part in your destiny and the way you see the world.
Humans learn. We need to experience and seek new adventures. To this end, learn something new.
If you read Tarot, learn the I Ching. If you know both of these, learn the Runes. If you know all of that, study palmistry and astrology. If you've already learned all these, then you're bitten by the desire for knowledge and will never stop looking. Be sure to pass on your obsession to others.
Don't hesitate to practice humanity. Reach out to others as often as you can, even if you feel shy about doing so. It doesn't take much to change a person's energy. Communicate with others, even if it's by social media. We're human beings and crave contact with each other. Even the perennially grumpy like to be acknowledged.
One more thing, as we used to say in my youth, keep the faith. Maintain a sense of hope. Once we lose our faith in something bigger and greater, no matter how that manifests for us, we enter a murky realm.
You are much, much stronger than you know. Exercise that strength, for no one can take it from you.
Until next week, I wish you all peace and love.
Remember, I'm an advisor at 12listen.com and would love to be of service.

Need a launch date?
Get the Perfect Launch Report!

Visit me at Facebook.com/MoTarot I'd love to hear from you!