Links you may like:
Subscribe to my newsletter
Get a computerized Astrology Chart!
Get a Psychic Reading
Subscribe to my Pod-casts
Visit my Blog

---
I was asked an interesting question today; "Where can I find spirituality in everyday life?"
The question took me a little bit by surprise and then I remembered that not everyone has the same frame of reference that I have. It's neither better nor worse than anyone else's, it's just different.
I see spirituality everywhere and in everything. I have the advantage of living in a metaphysical world and studying the beautiful, arcane subjects that have been the passion of my life. I also have the advantage of knowing that I've lived more of my life than I have ahead of me. This gives me a perspective that enhances the landscape greatly.
There's more to it than that, though.
Our ancestors saw spirituality in everything they did. They saw the divine in the earth, the products of the earth, the planets and stars, in every color, breeze, cloud and creature. Even the ideas that sprung from their imaginations were a direct connection to a divine mind, inspiring them to create for the good of all.
Somewhere along the line, we lost our connection to the daily wonder of living. This is certainly not true for everybody, but I believe for a great majority of our culture, the moment to moment magic of existence is elusive.
For those of you seeking more, I suggest looking to an archaic way of looking at life and the world around us.
For example, the yew tree was sacred to many groups of people for a good reason. In the old Nordic culture, Yggdrasil, the world tree, was considered to be a yew, a form of coniferous tree. It was on this tree that Odin sacrificed himself, so that human beings could receive the runes.
From the massive root structure of Yggdrasil to its lofty branches, it encompassed all that existed.
If you've never seen a full grown yew, use your favorite search engine and marvel at the magnificence of this tree. Its massive trunk connects to huge roots that spread out and encompass the surrounding earth. Its branches reach into the sky as if trying to hold up the firmament itself. Add to that the fact that the resin and needles are toxic and can cause hallucinations and you have the very description of a plant that seems to connect directly to the divine.
The Druids and other ancients revered the mighty oaks, gigantic guardians of the forests, within which lived the flora and fauna of both reality and myth.
Everything in nature had a purpose and everything had a connection to the multifaceted essence of the divine spirit. This included those things that we don't necessarily like, but have to endure, including harsh weather, predators and illness.
The ancient Egyptians worshiped the sun as the embodiment of deity and never doubted their connection to spirit, from sunrise to sunset. Their wonder would only continue as the stars came out, lamps hung by ancestors to give hope in the night, as the moon with all its mysteries glowed in the indigo darkness, evidence of the power of the divine force.
From the winds that blow every direction, to the rains that quench our thirst, to the moment to moment moving of our planet in space, that which we call time, we are surrounded by nature and that means we are surrounded by spirit and our spirituality.
It's impossible to separate ourselves from the reality of being spiritual beings on this highly spiritualized planet. Nature, in all its magnificence, is the very definition of the divine will, manifested as reality.
All it takes is a moment to look around and realize how blessed we are. We have family and friends, consciousness and will, determination and, at times, frustration. It's this frustration we face that gives us the drive we need to search for more and to find that which can make our lives fuller. If that isn't a manifestation of spirituality, then nothing is.
We are never alone, nor are we ever separated from that which we call spirit. This is something our ancestors knew and we can know it as concretely they did. All it takes is a little mental tweaking.
Pick up a pine cone and find the spiral that it hides. Smell a rose. Touch a tulip's petal; or simply watch a cloud as it morphs into phantasms that eventually fade away to nothing. Know yourself. These are simple ways to connect with and rediscover the face of spirit.
Until next week, I wish you all peace, love and the certainty of your connection with everything that is.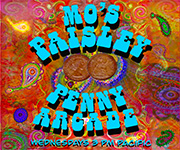 Mo's Radio Show
Mo Scopes are now available on 12listen.com!
Mos Current Email Based Services
Mo's Current Time Based Services
Remember, I'm an advisor at 12listen.com and would love to be of service.

Need a launch date?
Get the Perfect Launch Report!

Visit me at Facebook.com/MoTarot I'd love to hear from you!
---
by Kristi Brower
The Psychic Update

Attracting Luck
Hello, my friends! I am re-running this article I wrote about my Dad last year. Today is the one year anniversary of his passing and I can' think of a better way to honor him than to share his message of positive thinking and unconditional love.
Love,
Kristi

My Dad is the luckiest person I know. When he walks into a casino the slot machines absolutely beg to give him money. He will walk out with several hundred dollars more than he started with every time! Once, when I was a kid he won a raffle for a $500 shopping spree in the grocery store. Another time he entered a raffle for a boat, and walked away with it! He has had a lifetime of friends who love him and would do anything for him.

On family vacations it did not matter how far away we were from home, he always ran into someone who knew him and was happy to see him. I have often asked myself why he seems to attract so many lucky experiences. I am pretty sure that it is because of his attitude. He is one of the most positive and unconditionally loving people I have ever known. He always looks on the bright side, thinks the best of people, expects that everything will turn out fine, and is grateful and generous.

When I think about luck and energy I think about how we attract to us the same energy we put out. So if you are feeling desperate about money, you are putting out a feeling of desperation and lack, so that is what you get back. Luck comes from our Solar Plexus Chakra. When you have confidence in yourself and your ability to bring good things into your life, you attract lucky (synchronistic) experiences. There are several things you can do to make your Solar Plexus shine like a bright sun, attracting prosperity and synchronistic experiences.

First off it is very important to be grateful for what you have right now, in this moment. Make a gratitude list everyday. Write down 10 things you are grateful for. It can be small things like your morning coffee, a sunny day, or some time to yourself. It can also be bigger things like your family, home and pets. When you show gratitude you are telling the Universe that you are prosperous and attract more of the same.
The other thing you need to do to attract luck into your life is trust yourself. When you have confidence in yourself and your decisions you strengthen your Solar Plexus. The more trust you have in yourself the higher your energetic vibration, the higher your vibration, the more synchronistic events you attract. Make a conscious effort to trust your gut feelings, practice going with your first instinct when making decisions.

I believe that luck comes from inside us. When we practice having a loving and grateful attitude like my Dad, we attract more of the same into our lives!
Love,
Kristi
Kristi's Current Time Based Services
Kristi's Current Email Services
Kristi's Radio Show!
Connect with Kristi Here!
---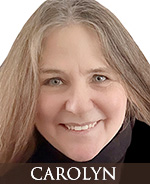 by Carolyn Ferris


Each week Carolyn Ferris will pull from her hand designed Tarot cards to reveal a message for us. Carolyn has been a psychic for many years and has a substantial amount of notoriety with her art. She has created art for many clients such as Timothy Leary, Santana, The Fillmore, and Moonalice.
Her artwork can be viewed at her web site www.intuitivereadings.com!
---

I'll be here for you for a reading with you. If you don't see that I'm in, please don't hesitate to request a scheduled time. I look forward to talking with you.
I've been preparing for a solo art show on Sunday, March 30-April 30. I will have original acrylic on canvas as well as a Limited Edition Metallic Prints molded within acrylic and ready for hanging! They are gorgeous. All of my originals and limited edition work is shown without lettering, all of my work is created for Rock-n-Roll Poster Art. The reception begins at noon on March 30. Roger McNamee will be playing solo acoustic at 3 pm with mostly original songs. The acoustic show will be broadcast live at www.moonalice.com the day.

If you come to the show, you'll take home a free commemorative 13x17.5 poster of one of my paintings. Admission is Free at the beautiful new art deco styled location, there will be Wine tasting as well! The address is: Capp Heritage Vineyards, 1245 First Street Napa, CA 94559.
The image below, I'm offering for $1200 to include shipping, Power Peek has the first advertised offer. This is one of 13 images in the limited edition selections from the show. There is a very limited run of 35 each. You may read more on my www.IntuitiveReadings.com site. Allow 3 weeks for delivery, they must be engraved with signature, numbered, and shipped.
Come Together

©2014 Carolyn Ferris and Moonalice

Turtle spitting up energy bubbles while allowing the woman to catch them. She tosses them to her friend to tank the car so that it may fly through the air at a very fast speed. After the bubbles fill the tank, the turtles will join them in the car to visit a nearby galaxy. The turtles and the couple love this method of travel, it saves them quite a bit of travel time. This card calls for you to come together with others on a project or idea you have in order to manifest it much faster.

The Power Peek is brought to you by: Mark Husson