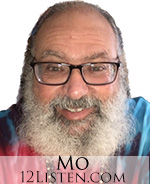 by Mo Abdelbaki
The 60s were electric.
It wasn't just the music, drugs or counterculture that electrified the world, it was the realization that change was imminent and unstoppable.
Almost 50 years after the Summer of Love, much of the world may seem the same, but so much of it is different.
There are still those who consider themselves superior to others and entitled due to their financial, social or philosophical status. These types are dinosaurs and although they have sharp teeth, razor claws, make an incredible amount of noise and generally terrorize civilization, their days are numbered and their extinction probable.
Hatred exists and may be a part of the human condition as long as we thrive on this planet. However, it's no longer as easily camouflaged and it certainly is not as readily tolerated.
When bombastic, egocentric gas-bags spew their prejudicial hate-mongering to the public, it no longer goes unnoticed. These self entitled, self congratulating individuals march their stupidity into the limelight and cajole followers to agree with them. Undoubtedly, they have their base of support, but like the ludicrous philosophies they espouse, they must give way to a greater light.
If someone had told me in 1967 that the Supreme Court of the United States would legalize same-sex marriage, rendering it Constitutional Law, I wouldn't have believed it. At that time, interracial marriages were still a rarity and often the focus of hatred and violence.
To live in an environment where anyone could become a legally married couple was a goal we thought was far beyond our generation's ability. It's the very definition of the supremacy of love over hatred and equality over superiority. It's a reality, finally. There will be hurdles, but that's a part of any change.
Yet, there are those who detract and hate. They may join a prayer group and, in cold blood, murder those who accept a stranger with open hearts.
There are those who proclaim that the vast number of immigrants coming into our country are drug dealers, killers and rapists, although "assumedly," some may be good people. Such pomposity would be funny if it weren't so incredibly tragic.
There are those who drag us into warfare under false pretenses and then years later, eagerly turn and point their fingers across the aisle in blame. Then, as if to beat their chests in a show of guiltless indignation, bring an entire country to a screeching halt. Shame.
There are those who will do anything for money and will sacrifice the good of the many for the obscene privileges of the rich and powerful.
There are those who abuse their power as protectors of society, and just as parasitical, there are those who seek to cause chaos in a world already fraught with confusion.
There are those who consider the underprivileged to be lazy barnacles on the hull of society, while children in their cities go to sleep hungry every night.
None of this is a surprise. We know it and see it every single day. We see it with our eyes and hear it with our ears, but we should always feel the truth that moves through us like an electrical current, one from a bygone era that fervently believed in peace and love.
The times, they are a changin'.
We are guardians of this planet and have raped it enough. Those who deny this fact are delusional at best and liars at worst.
We are guardians of humanity and should embrace each other, not wage war.
We are guardians of love and should encourage it in every way, shape and form that doesn't victimize or take advantage of others.
We are the guardians of each other and should find joy in the happiness of others and should feel agony at the pain of our fellow beings.
We're different.
We may believe in a different social paradigm than our neighbors. We may believe in stars and cards and that the tossing of coins can tell us anything we want to know. Some of us believe in angels, others in ancient deities and some of us in the eternal wisdom of trees and Nature. We see beyond the dogma, into the heart of the mystery. In that place, we find ourselves and the truth that we are all connected.
We have a voice and the power to make ourselves heard. We matter.
You matter.
It doesn't take Patchouly, Op Art posters or drugs to revive a movement. It only takes love.
Now and forever, I wish you peace and love.
Remember, I'm an advisor at 12listen.com and would love to be of service.

Need a launch date?
Get the Perfect Launch Report!

Visit me at Facebook.com/MoTarot I'd love to hear from you!