Links you may like:
Subscribe to my newsletter
Get a computerized Astrology Chart!
Get a Psychic Reading
Subscribe to my Pod-casts
Visit my Blog

---
We hear the term "political correctness" a lot.
With the popularity of social media, it seems that every day someone says something that gets them into trouble. Soon, I'll be venturing into more social media and I've been thinking about "political correctness." I've come to realize that I won't have to change much because I have a basic philosophy that I hope never to deviate from.
The bottom line is that I don't want to hurt anybody. It's easy to hurt feelings and it's easy to step on the toes of others with offhand comments that may seem innocent but can be incredibly injurious.
We live in a contentious society where people seem to love to argue, point fingers at each other and place blame. All we have to do is look to our government over the past 2 to 3 years in order to see this game being played vigorously. Unfortunately, it's dysfunctional and, in my opinion, completely immoral.
If government actions are any indication, it would seem that political correctness isn't about being careful, but about snide comments and accusations that seek to injure others in order to promote oneself.
The world is in enough upheaval as it is. I don't think it's proper that we add to it with thoughtless remarks. A recent example of this has to do with the tragedy of the Malaysian airliner that was shot down over the Ukraine. I find it unthinkable that anyone would make a joke about this situation. Yet, this is exactly what happened as a "comedian" poked fun at the tragedy on Twitter.
This act is as heinous as the comedian who made stunningly insensitive "jokes" about the Japanese tsunami shortly after it occurred, once again sharing insensitive thoughts with the world through social media.
I'm in no way advocating censorship nor anything that seeks to infringe on free speech. All I'm saying is that it's important to think about the feelings of others, even if we can't even begin to imagine someone being offended or hurt by what we say.
I suppose we should be thicker skinned than we are, but then again I'm glad I don't live in a society where there are no consequences for uttering anything that crawls out of our mouths. Freedom of speech has a major responsibility attached to it, one that mandates thought and presence of mind. I read Facebook posts every day that flabbergast me by their lack of sensitivity or common sense.
I'm not perfect. I'm not above making a wise-guy comment on a post but I always do it, or try to, with a sense of humor and I'm certainly not trying to be mean to anyone.
In my life, I've been the butt of many jokes. I've been bullied and discriminated against for various and sundry reasons and, most likely, so have you. However, I am in no way, shape or form a victim. I refuse to be. I have a voice and I know how to use it. More often than not though, I try not to hurt someone else's feelings, regardless of how deserving of harsh words that person may be.
We face difficult challenges in our world. You don't need me to tell you this, as the evidence is all around us. This is why it's important for us, those of us who have a metaphysical mindset, to set an example of leadership when it comes to how we think, speak and act.
It's not easy, but I try every day to change my thinking and through that, my words and actions. I do this not because I'm afraid of getting in trouble. Trust me, I do that pretty well anyway. I do this because I genuinely don't want to hurt anybody or cause trouble were no trouble is needed. Even when goaded or openly challenged, I take a deep breath and opt out of engaging when at all possible.
Make no mistake, I can be a mouthy pain in the rear and can unsheathe a tongue that can cut deeply. I choose not to and always regret it when I say anything that causes any pain. It takes work.
This shouldn't be misconstrued for silence when dealing with ignorance, misery, oppression, tyranny or any of the other forces that seem to be such an ingrained part of being human. Sometimes an angry, harsh voice is needed, but such a voice is harder to ignore when calm and controlled.
My belief is if we adopt a gentler voice, it becomes more powerful every day. I embrace the concept of power in peace and change through love and communication. I've tried it and it works.
We can make the world a better place. Whether you know it or not, you prove it every day through your beliefs and actions. Let's keep up the good work and make the changes we can through a kind word, genuine caring and a hug or smile whenever possible.
Until next week, I wish you peace, love and kindness.

NEW CLASS: I'm excited to announce a new class on Alchemy that will begin in early August of 2014. I've never shared my discoveries and I'm honored to debut my first ever Alchemical class on 12Academy. Alchemy is one of the most misunderstood of all disciplines and is one of the most exciting and fascinating topics in all of metaphysics. I guarantee you'll learn skills that will change your life and give you tools for self empowerment and growth. This class will be based on over 50 years of personal study and experimentation and I'm eager to begin sharing what I've discovered with you. Stay tuned for details and don't hesitate to get in touch.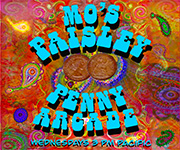 Mo's Radio Show
Mo Scopes are now available on 12listen.com!
Mos Current Email Based Services
Mo's Current Time Based Services
Remember, I'm an advisor at 12listen.com and would love to be of service.

Need a launch date?
Get the Perfect Launch Report!

Visit me at Facebook.com/MoTarot I'd love to hear from you!
---
by Kristi Brower
The Psychic Update

Global Healing Circle
This weekend I would like to call us all to action. Humanity has had a rough few days. I am not going to mention all the world tragedies that are going on, we know what they are. I am going to ask you to join me in a weekend of prayer, meditation and healing for all of those affected. Below I have included a prayer/meditation that you can use as a mantra.

Global Healing Circle Prayer for Peace
We call in Archangel Michael, Archangel Elohiem, Archangel Gabriel, the Goddess Pele, the Goddess Isis, Kwan Yin, the Goddess Shakti, White Buffalo Calf Woman, Green Tara, Ketzalkowatal, Kowatlikue and all other light beings.
We ask you to bring peace and healing to all those affected by violence in our world.
We ask you to surround all of us with unconditional love, safety and peace.
We ask you to guide us in creating a world of peace, a world of love, a world of acceptance.
We ask that you release us from fear and a need to control.
We ask you to protect those in authority who are working to return order and safety.
We ask you to soften the hearts of those who commit violent acts, reconnecting them with their true selves.
We call in all of the healing crystals in the Earth. We ask you to place a protective grid of light around the globe, protecting those in harms way and amplifying our love and collective energy.
We hold the light as you place our world in a bubble of rainbow light, healing us and uniting us as one people, as one light.
And so it is, and so it is, and so it is.
Please sit in meditation and repeat this prayer several times throughout the weekend. If you would like to comment and connect with others who are also participating please click here to join my Facebook group, We Are One 1111
A daily walk outside that includes a few minutes of physical contact with a tree or carrying a dark stone that you rub with your thumb several times a day are also great ways to ground.

Get some energy work! I have developed energy healing techniques that build the basic structure your Root Chakra needs to stay stable. Give me a call at 12listen.com and we can work on it together.
Blessings,
Kristi

Kristi's Current Time Based Services
Kristi's Current Email Services
Kristi's Radio Show!
Connect with Kristi Here!
---
12Reports is where you can order Astrological Reports compiled by computer. I promise an immediate correction on any errors regardless of whose mistake it is. These make great gifts that we can send to the recipient for you. You order and Pay THEN you get sent a form for the details.